ICLA – IC MONTELIBRETTI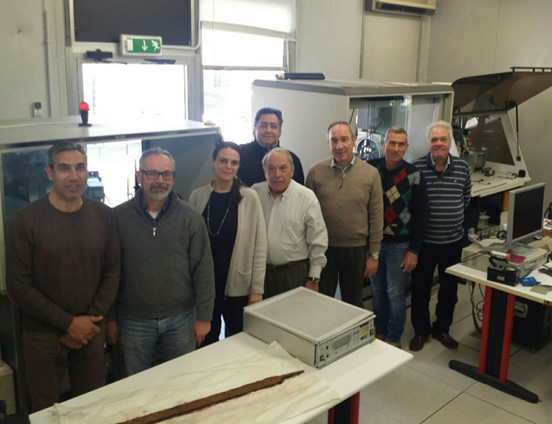 DESCRIPTION:
The research activity of the group aims at the study and the characterization of the materials of interest for the Cultural Heritage as well as the development and realization of instrumentation for the diagnostic of materials. The activity is carried out in close contact with the superintendencies of Rome with which special conventions have been established.
The main methodologies used are radiography, X-ray fluorescence (XRF), X diffraction from powders and multispectral UV, VIS or NIR imaging.
The group is specialized in situ surveys with the portable equipment available in the laboratory.
CONTACT PERSON:
Prof. MARCELLO COLAPIETRO
Email : marcello.colapietroATmlib.ic.cnr.it


INVOLVED STAFF:


FACILITIES AND LABORATORIES:


GROUP RELATED RESEARCH PROJECTS:


GROUP RELATED PUBLICATIONS:
Colapietro, A. Ranieri, O. Tarquini, A. Pifferi 'Allestimento di una postazione per la diffrazione dei raggi X per l'analisi di materiali cristallini. ' SMART eLAB – volume 3, anno 2014 ISSN: 2282-2259
Tarquini, M. Colapietro, A. Pifferi Radiografia X su decorazioni architettoniche presso la chiesa dei SS Luca e Martina in Roma SMART eLAB – volume 7, anno 2015 ISSN: 2282-2259
In Crustumerium Death and Afterlife At The Gates Of Rome Ny Carlsberg Glyptotek 2016:
– O. Tarquini, A. Pifferi, M. Colapietro Scanning methods XRF and XRD,
– O. Tarquini, M. Colapietro X-Ray imaging and successive imaging processing
p 65-66 ISBN 978-87-7452-345-1
In Tesori per l'aldilà – La tomba degli ori di Vulci dal sequestro al restauro CANGEMI EDITORE
– O. Tarquini, A. Pifferi, M. Colapietro Analisi radiografiche e di fluorescenza dei raggi X dei gioielli dalla Tomba degli ori da Vulci p 61-63 ISBN 978-88-492-3256-1
In G. Pardini, Rinvenimenti monetali e circolazione a Pompei. Le monete dalla RegioVIII,7,1-15:
– G. Pardini, O. Tarquini L'indagine radiografica p 203-210 – ISBN 978-88-87744-77-4