Progettazione, sintesi e sviluppo degli analoghi basati sull' acido peptido nucleico (PNA) per il targeting dei miRNA a scopo terapeutico e per la diagnosi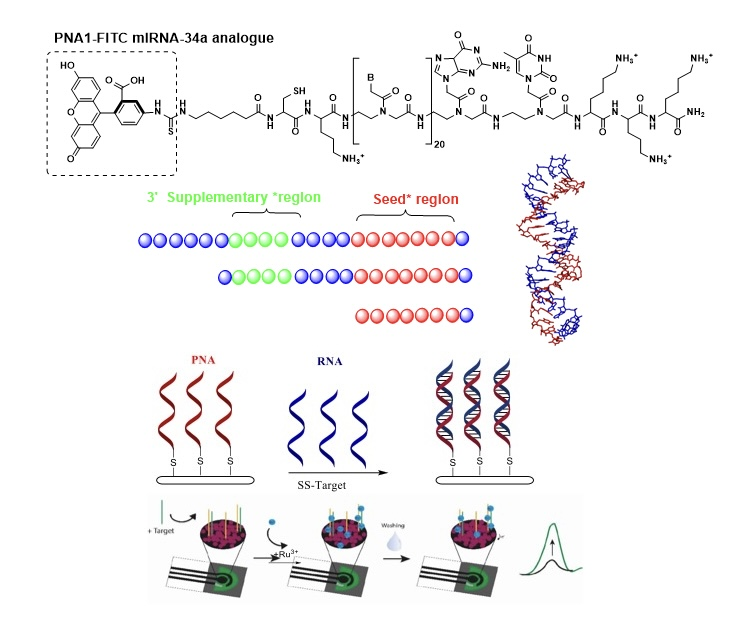 I PNA sono analoghi degli acidi nucleici che hanno affinità e specificità implementate e sono resistenti alla degradazione enzimatica. Tutte queste caratteristiche rendono il PNA un candidato ideale come agente antisenso, antigene, molecole che riconoscono miRNAs e come probe per applicazioni diagnostica.
L'acido nucleico peptidico (PNA) è un potente e attraente mimico dell'acido nucleico, sviluppato da Nielsen nel 1991. Recentemente, i miRNA, una classe di RNA non codificanti, sono emersi come regolatori cellulari e anche come biomarcatori; essendo deregolamentati in varie malattie umane. I miRNA rappresentano una classe interessante di molecole sia nello sviluppo di farmaci che nel campo diagnostico. La prima attività di ricerca riguarda la progettazione e la sintesi dei PNA come analoghi del miRNA-34a che funziona da onco-soppressore nel tumore del Neuroblastoma. La loro interazione è stata studiata con due siti di legame sull'mRNA di MYCN mediante simulazione della dinamica molecolare e tecniche spettroscopiche (UV, CD NMR). La seconda attività di ricerca riguarda i PNA come sonde intelligenti per la rilevazione multipla di miRNA. In questo progetto sono state progettati e sintetizzate sonde intelligenti basate su PNA (fluorescenti ed elettrochimiche), caratterizzate da tecniche spettroscopiche/elettrochimiche. Queste sonde intelligenti sono state sviluppate per affrontare la mancanza di una diagnosi rapida/economica nel cancro del pancreas e nella celiachia. La terza attività di ricerca è basata sulla progettazione di nuovi analoghi chirali di PNA, questi analoghi verranno usati per la sintesi di oligomeri per stabilire le proprietà di legame con acidi nucleici naturali.
– Moccia M, Mercurio F.A., Langella, Piacenti V., Leone M., Adamo MFA, Saviano M. Structural insight on tiny peptide nucleic acid (PNA) analogues of miRNA-34a: an in silico and experimental integrated approach. Frontiers in chemistry, 2020, 1128.
– Piacenti V., Langella, E., Autiero I., Nolan J.C., Piskareva O., Adamo M.F.A, Saviano M., Moccia M. A combined experimental and computational study on peptide nucleic acid (PNA) analogues of tumor suppressive miRNA-34a. Bioorganic Chemistry; 2019, Vol. 91, 103165.
– M. Moccia, Caratelli V., Cinti S., Pede B., Avitabile C., Saviano M., A. L: Imbriani, Moscone D., Arduini F., Biosensors and Bioelectronics, 2020, vol 165, 112371.
– Moccia M., Antonacci A., Saviano M., Caratelli V., Arduini F., Scognamiglio V. Trends in Analytical Chemistry, 2020 132, 116062.
Altro personale coinvolto​